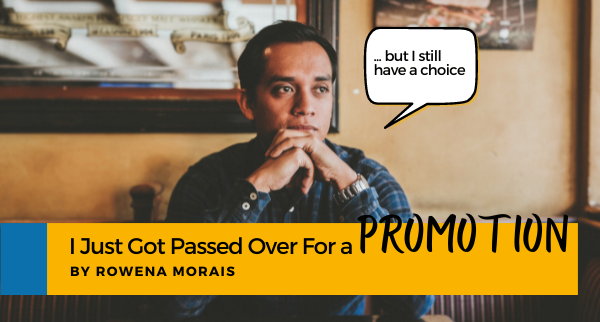 I have been working at my current company for eight years. I just got passed over for a promotion.
I'm deflated.
They hired someone outside, didn't even talk to me about it. I am the sole income earner in my family at the moment so I need to stick with this job. What should I do?
Simon
Hi Simon
I cannot imagine how this feels for you but I hear you.  First thing I would do is breathe and just take it in. See the situation for what it is and be glad it's surfaced as it has.
It is an opportunity for you to reassess your time at your company and KNOW you have choices. Even though you are a sole income earner, remember that you still have choice.
Stick with the job for now. But in the background, you probably realise it's time to go. You could raise this internally to discover why you may have been  passed over.  It may highlight areas for improvement. But given this conversation was not even raised with you and your tenure, I would hazard a guess that it may not be viable to see how you can shift things at this company. It may indeed be  time to move on.
There are a number of things to do, of course, but here are three of the most important things I would do if I were you:
Consider the past but focus on your direction
Review your skill sets to see what you need to surface in a more tangible way. Take a good look at your experience and skill set. At this point, it is less about what has been and far more about your direction. Where do you want to go? What kind of role are you interested in? What company would you like to work at?

If someone was to look  at you and your profile, what do you think they would see? Do you agree with that perspective and if not, how could you begin to shift that? Once you develop clarity on this, you can work backwards to make this happen.

Invest your time on LinkedIn

Whether you like it or not, this is the place to be.

It is useful for many things – securing a new role for one. But also, if you are looking to build more professional visibility, this platform helps.

Understand that it is not enough to focus on developing your LinkedIn profile. There are two other equally important steps required: use LinkedIn to build your network purposefully and allow your connections and the wider audience to get a sense of who you are through your body of work.

This is your digital portfolio that provides a tangible representation of who you are and the value you bring. This body of work speaks to your experience and expertise.

By writing short posts, longer form articles and (selectively) commenting on other people's posts, your network begins to understand your value and your areas of interest. Use this space to tell people what you want them to understand about you.

Spend time to build connections

If this has never been a priority, realise that connections and a network that is curated serves you. And this cannot be built in a day.

Much like you would appreciate a word from a thoughtful friend, a connection reaching out with an opportunity to share, a kind gesture just out of the blue, it does not start with with others.

It starts with you doing these things for others. This creates a stronger bond, it reinforces relevance and purpose and it builds on the early foundations.

Over time, these strengthen. Over time, just like you will give within the relationship, you will also gain. I'm talking about a two-way street and authentic relationships that can last a lifetime, unhindered by space and time. I've built meaningful connections with people discovered through LinkedIn that have spanned decades. I could not have imagined this at the time but the value, bonds and connection are truly invaluable to me.
In summary, stick with the job for now. But if you can do these three things, I think you will be excited about the possibilities to come and the results from these actions.